How to filter Internet content on your Motorola Droid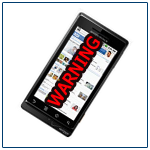 The other day I was looking for an Internet filter app for my Motorla Droid, but couldn't find anything. My kids use my phone more than the computer right now, so figured I better get something on there as well. I kind of gave up last week looking as I really could not find much, but today while logged into my Verizon Wireless account online, I came across a section that allows you to set parental controls for Internet access on the Droid! I am sure an Internet content filter app will eventually be available for Android devices, but this solution looks like it will work just fine.
If you came across this article and know of an app or another solution, feel free to leave your comments below.